Jurassic World: Dominion Dominates Fandom Wikis - The Loop
Play Sound
Event Deck Ultimate Form hero from Scrapyard Scramble - the fourth Weekly Event in Season 5.4 Fallen Pharaoh
Affinity

Light

Event Skill
Slayer 6x
Type

Chaotic Killer

9x
Class

Attacker

Generation
3
Role
UF
Ultimate Form
Codex
#
???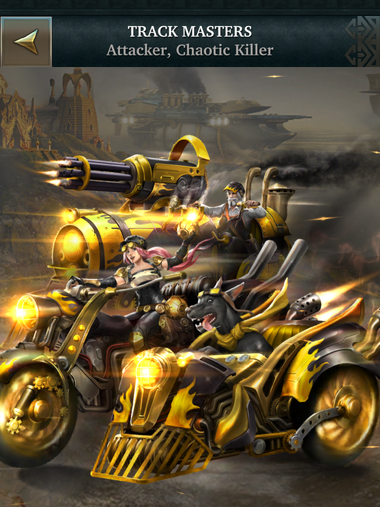 ---
In the end, no one racer could take on the foul machinery of the Dread Treads, yet hope was not lost. The racers found hope in the same thing that brought them together originally, the Scrapyard community. With all the racers pushing together, they were able to drive the tank off the tracks, gracing the Scrapyard with just one more, high profile wreck.
---

6x Slayer
x6 Damage in Slayer Events


Leader Skill: Advanced Light Slayer Might IV
300% Damage and 600% HP for all Light Slayer Heroes


Battle Skill: Loco Motion
Creates 8 Light Power Gem VIs. Increases Light Slayer ATK by 80% for 4 turns. Become immune to enemy attacks for 1 turn.
Charge Rate: 9 Gems
Cooldown: 4 Turns

Foghorn Flash
At the start of battle, creates 6 Light Power Gem VIs.


Chopper Chomper
Whenever this hero attacks, Sparkplug unleashes a Bonus Attack at the end of the turn for 50% of the main attack and creates 6 Light Power Gem VIs.


Passive: Haste
This hero starts the battle with its Battle Skill fully charged and 20% increased ATK for 1 turn.

Chaotic Killer III+
Increases Damage by 900% while Chaotic enemies are present.
Only the Most Powerful Chaotic Killer effect on each hero will apply.


Empowered Light
This Hero is Empowered and does 10x Damage against Fire Enemies instead of the standard 2x

Passive: Chaotic Killer Intensity Generation
Increases Chaotic Killer Intensity by 5 per turn.


Ultimate Light Slayer Harmony
This Hero gains 25% ATK and RCV for every other Light Slayer Ultimate Hero on the team, and increases all Light Slayer HP by 25%.
---
Guild War PWR: 7,337


Defender Skill: Panic VI
Chance Each Attack to apply a Panic VI Debuff on 1 hero for 5 turns
Panic Debuff: Target has less time to make gem matches


Counter Skill: Dispel Power Gem Silence VI
Chance to remove Power Gem Silence Debuff from all allies.
---

Light Affinity
+100% bonus damage against dark heroes
-50% damage against light heroes

---