Event Deck Ultimate Form hero from Inquisition's Edge - the fifth Weekly Event in Season 5.4 Fallen Pharaoh
Affinity

Fire

Event Skill
Commander 6x
Type

Beast Killer

9x
Class

Attacker

Generation
3
Role
UF
Ultimate Form
Codex
#
???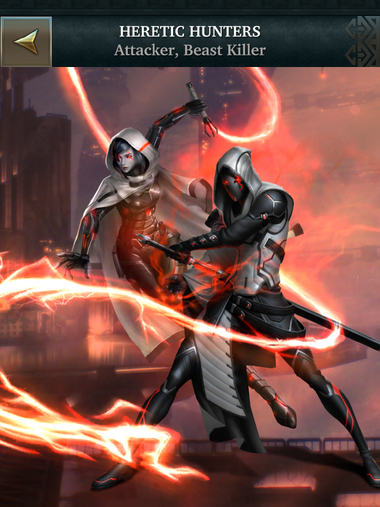 ---
In extreme cases, the Interrogators and the Faceless will join forces for particularly prominent heretics and sinners, Should their "guest" see the error of their ways and repent, then the Interrogators will be ready to hear their confessions on the spot. Should they refuse, then the Faceless will prepare alternate methods.
---

6x Fire Commander
Places one 6x Fire Commander gem on the board during Commander events. Matching the gem empowers all Fire heroes' attacks


Leader Skill: Advanced Fire Commander Might IV
300% Damage and 600% HP for all Fire Commander Heroes


Battle Skill: Zealous Confrontation
Converts all non-Fire Power Gems to Fire Power Gems and upgrades all Fire Power Gems by 2 ranks. Increases self DMG by 275% for 1 turn.
Charge Rate: 9 Gems
Cooldown: 3 Turns


Tools of the Trade
Massively increases Fire Gem drop rate at the start of each turn.

Beast Killer III+
Increases Damage by 900% while Beast enemies are present.
Only the Most Powerful Beast Killer effect on each hero will apply.


Empowered Fire
This Hero is Empowered and does 10x Damage against Fire Enemies instead of the standard 2x

Passive: Beast Killer Intensity Generation
Increases Beast Killer Intensity by 5 per turn


Ultimate Fire Commander Harmony
This Hero gains 25% ATK and RCV for every other Fire Commander Ultimate Hero on the team, and increases all Fire Commander HP by 25%.
---
Guild War PWR: 7,337


Defender Skill: Chaos VI
Chance Each Attack to apply a Chaos VI Debuff on 1 hero for 3 turns.
Chaos Debuff: Completely destroys the board every turn.


Counter Skill: Dispel Judgment VI
Chance to remove Judgment Buff from all enemies.
---

Fire Affinity
+100% bonus damage against water heroes
-50% damage against fire heroes

---