Event Deck Master Collection hero from Pirate's Pride - the second Weekly Event in Season 5.3 Solar Ascension
Affinity

Dark

Event Skill
Commander 5x
Type

Arcane Killer

8x
Class

Attacker

Generation
3
Role
MC
Master Collection
Codex
#
22440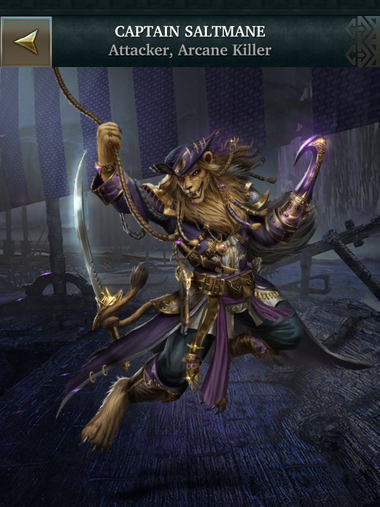 ---
Legends say Captain Saltmane was born a captain, hat on head and hook in hand. At sea, his roar can be heard for miles, and signals only one thing: surrender your loot, or walk the plank.
---

5x Dark Commander
Places one 5x Dark Commander gem on the board during Commander events. Matching the gem empowers all Dark heroes' attacks.


Leader Skill: Advanced Dark Commander Might IV
300% Damage and 600% HP for all Dark Commander Heroes


Battle Skill: Raise Morale
Increases Dark Commander DMG by 80% for 3 turns.
Charge Rate: 9 Gems.
Cooldown: 3 Turns

Passive: Roaring Boarding
On attack, creates up to 6 Dark Power Gem VIs, one for each attacking Dark Commander.

Arcane Killer IV
Increases Damage by 800% while Arcane enemies are present.
Only the Most Powerful Arcane Killer effect on each hero will apply.


Empowered Dark
This Hero is Empowered and does 10x Damage against Fire Enemies instead of the standard 2x

---
Guild War PWR: ???

Defender Skill: Gem Silence VI
Chance Each Attack to apply a Gem Silence VI Debuff on up to 5 heroes for 3 turns.
Gem Silence Debuff: Skills that transform or upgrade Gems are silenced for targeted heroes.


Counter Skill: Dispel Dodge VI
Chance to remove Dodge Buff from all enemies.
---

Dark Affinity
+100% bonus damage against light heroes
-50% damage against dark heroes

---